Despite national security warnings the government has given the green light to the Chinese tech giant to provide 'non-core' equipment to help build Britain's new 5G network.
The Daily Telegraph newspaper reported Britain's National Security Council, chaired by Prime Minister Theresa May, has agreed to allow Huawei access to 'non-core' parts of 5G mobile infrastructure such as antenna, despite senior members raising concerns about the approach.
Such a decision would mean Huawei would not supply equipment where tasks such as checking device IDs and deciding how to route voice calls and data take place.
Huawei, the world's biggest producer of telecoms equipment, is under intense scrutiny from the US due to fears that Huawei would have no choice but to hand over network data to the Chinese government if asked for it.
Huawei has categorically denied these claims saying that the US ban is based on "Numerous false, unproven and untested propositions."
The US campaigned to its allies in the 'Five Eyes' intelligence grouping (the UK, Canada, Australia and New Zealand) urging them to also ban the company. Already siding with Washington, Australia ­has spoken of "Serious concerns over Huawei's obligations to the Chinese government and the danger that poses to the integrity of telecommunications networks in the US and elsewhere."
Huawei, which is waiting on a formal government announcement on the UK's 5G plans, said it was "Pleased that the UK is continuing to take an evidence-based approach to its work," adding it would continue to work cooperatively with the government and the industry.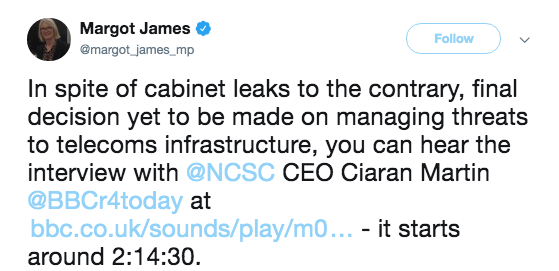 Digital Minister Margot James responded to the reports about Huawei by tweeting: "In spite of Cabinet leaks to the contrary, final decision yet to be made on managing threats to telecoms infrastructure."
With the fifth generation of cellular mobile communications set to support technologies from driverless cars to smart cities, the decision to allow Huawei to help build the UK's 5G network is arguably one of the most significant long-term national security decisions this government will make.